UNIQUE CABIN ON THE ISLE OF SKYE
WITH STUNNING MOUNTAIN VIEWS
BOOK NOW
WELCOME TO BLUEBELL COTTAGE
We are now taking bookings for the festive season from Saturday the 23d December until Saturday the 6th January.
We are also taking bookings from March next year.
BOOK NOW
Bluebell Cottage is situated in the peaceful crofting township of Torrin on the Isle of Skye, 7 miles from Broadford. It sits beneath the Red Cuillin Hills and is a five minute drive from Bla Bheinn of the Black Cuillin, which rises up above the shores of Loch Slapin. An ideal spot for mountaineering, hiking or kayaking. Designed by artist Rupert Copping and his wife Jemima, the cabin offers a quiet, cosy retreat from the stresses of modern living. The interior has been designed to offer a visually pleasing and spacious area in which to relax, whilst also providing all modern utilities to make your holiday hassle free.The outstanding view of the Ben Dearg hills - also known as the Red Cuillin - completes the experience of staying at Bluebell Cottage. There is a small private garden for your own use and off road parking.
FACILITIES
The living area includes a large comfy sofa, 2 armchairs, reading lamps, electric fireplace and wall mounted heaters, book shelf with an assortment of books, maps, games and a wealth of information about Skye, wifi hub and radio. The magnificent view from the large picture window takes in the Ben Dearg mountains.
The kitchen which looks out on to the garden, is equipped with a ceramic hob and oven with grill, microwave, dishwasher, washing machine/dryer, fridge/freezer, and all cleaning materials. The dining table with four chairs is close to hand, and you can watch the birds at the feeder from this vantage point.
The bedroom has a king size bed which separates into two singles, a wardrobe, dressing table and a mirror and the bathroom has a superb waterfall shower and heated towel rail. Towels and toiletries are provided.
The garden is provided with table, loungers and foldup chairs, which are stored in the hall cupboard, which also houses cushions and a picnic blanket for use outside.
PLEASE NOTE: Because of the layout and the access, Bluebell Cottage is not suitable for persons who are wheelchair users or who have difficulties in walking.
Also we regret that we do not accept dogs or other pets. Please take a look at our Terms and Conditions at the bottom of this page.
SURROUNDING AREA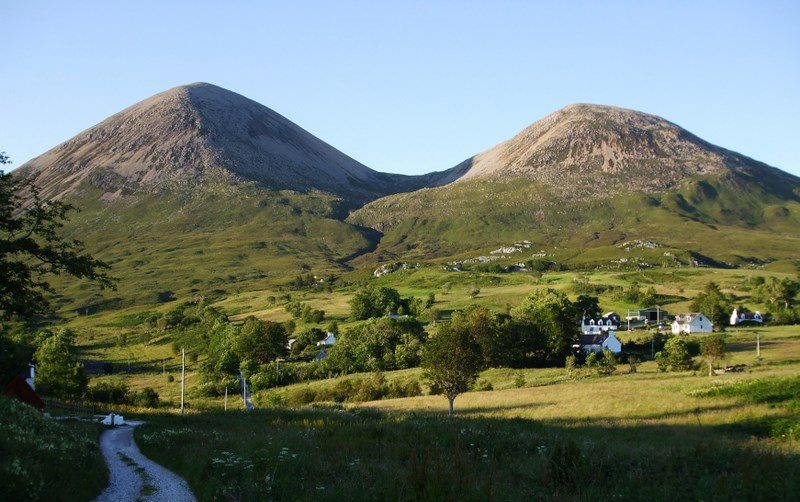 View from cottage of Ben Deargs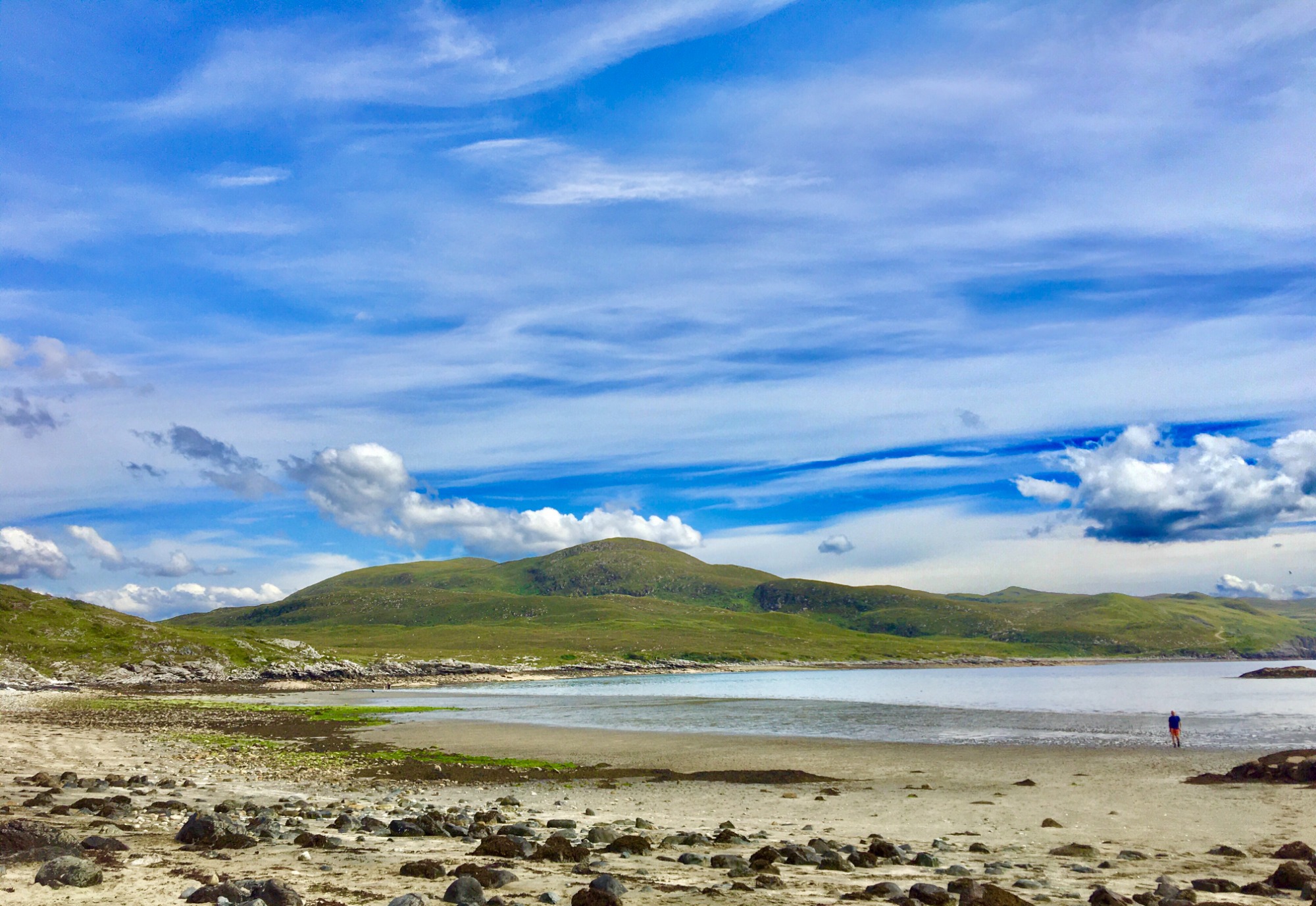 Beach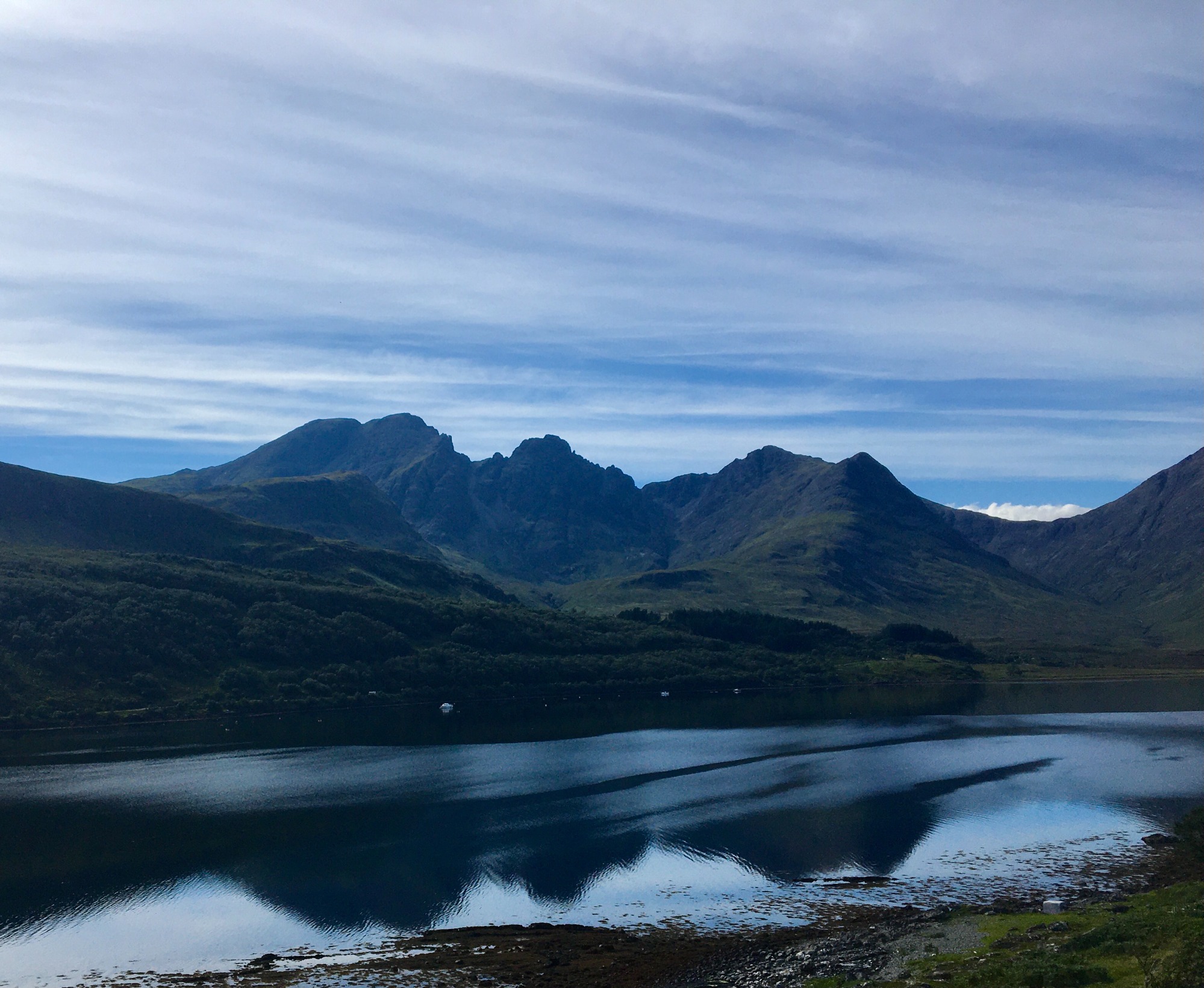 Loch Slapin
Torrin is an excellent base from where to explore the surrounding area which affords a variety of hikes and hill walks for most abilities. A lot of these can be accessed by foot, including Blaven, the Ben Deargs and Ben na Cro which sits at the head of Loch Slapin. You could easily spend a week enjoying the different walking routes around Torrin without getting in the car. Further afield is Camasunary, from where you can hike to Sligachan; other hikes are to the deserted settlement of Boreraig, and also Dunringell, to name but a few. Boat trips are available from Elgol, taking in various trips to Loch Coruisk and the Small Isles. A great opportunity to observe varous sea creatures and seabirds. It lies on the shores of Loch Scavaig and is a drive of 7 miles. On the shores of Loch Slapin you may see a variety of seabirds, an otter or two, and golden eagles soaring high above the Red Cuillin. Sea eagles are also frequently sighted in the area. Closer to the cottage is a beautiful sandy beach within easy walking distance where you can swim and gather mussels.
Torrin is a wonderful place for wildflower lovers. It has more than a dozen species of orchids, and an abundance of other flora and trees. Much of the area is managed by the John Muir Trust and is designated a Site of Special Scientific Interest and a Special Area of Conservation.
There is a small cafe serving cakes, coffee, soup and sandwiches, and Mrs Mack's burger van down by the quarry serving burgers from Torrin beef, ice cream and other refreshments.
Broadford is the place to go shopping for groceries. It hosts a Co-op supermarket, pharmacy, post office, various cafes and restaurants, fish and chip shop and gift shops. There is a community garden, health centre and new hospital too. The A87 which runs through it will take you to the other parts of Skye.
BOOK NOW